SAT Private Tutoring in Lisbon (Portugal)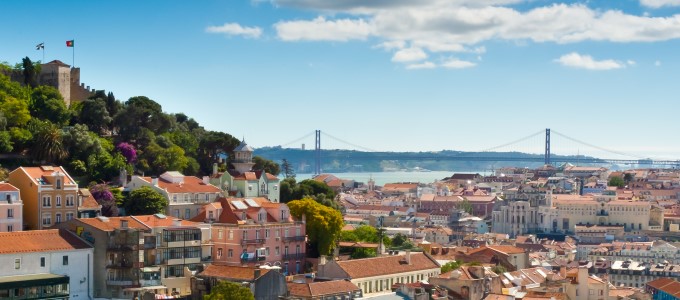 Manhattan Review's SAT prep services for students in Lisbon develop all of the relevant SAT skills for superior SAT performance. Lisbon students can reach optimistic score goals with our customized private SAT tutoring, traditional SAT prep courses in on-site format, SAT group online instruction, and SAT practice tests. Manhattan Review has an SAT offering that is perfect for students in every preferred mode of learning. Our one-on-one SAT tutoring plans are ideal for students who wish to improve their SAT weaknesses at the fastest possible pace. Manhattan Review's individual tutors implement differentiated instructional plans that consider specific student characteristics such as academic background, academic goals, and optimal learning style. We can also accommodate students who prefer classroom instruction, which offers the many benefits of group learning. Our SAT courses are provided either on-site in Lisbon or online from anywhere. All students benefit from our authentic and realistic SAT practice tests, which are vital instructional tools that help establish skill levels and suggest direction for further study.
At Manhattan Review, we are frequently asked to define the parameters of "good" SAT scores. We wish that there was a simple answer to this question, but the fact of the matter is that a high score at one school can be a low score at another. Rather than giving specific numbers, we suggest that our students aim for target scores that are above the average ranges for applicants accepted to the universities they are considering. The median SAT composite score for new students at the University of Georgia, for instance, is approximately 1290. For applicants to this institution, scores of 1300 and above should be considered competitive. The picture is different at Georgetown University, which reports 25th-percentile SAT scores of 1320 and mean SAT scores of about 1420 for the most recent class of first-year students. An applicant with a score of 1310 might be strongly considered by the University of Georgia, but he or she would be far below average at Georgetown. In the latter case, we would suggest striving for scores in the range of 1450 and above, which will place the student in the upper half of the pool of admitted students.
Manhattan Review's professional SAT instruction has facilitated tens of thousands of selective university acceptances for students in Lisbon and other cities around the world. Our SAT clients have been successfully admitted to elite schools such as Harvard, Princeton, Columbia, Stanford, the University of Pennsylvania, the University of Chicago, Northwestern, the University of California-Berkeley, the University of California-Los Angeles, Carnegie Mellon, the California Institute of Technology, Johns Hopkins, the Massachusetts Institute of Technology, Georgetown, the University of Virginia, and several others. Many of our former SAT clients are now working for Fortune 500 companies in the United States, such as State Farm Insurance, Bank of America, World Fuel Services, Walgreens Boots Alliance, and New York Life Insurance. We also have past students who are currently employed by the top firms in Lisbon, including Global Media Group, Galp Energia, Medinfar, TAP Express, and Lunacloud. Become a Manhattan Review student today, and join a strong tradition of success.
SAT Private Tutoring
Hours package 12 to 48 hours, Personalized 1-on-1 Tutoring, In Person or Live Online
SAT Private Course
12 hours in total, Personalized 1-on-1 Course, In Person or Live Online

Funny, made things clear and related things to real life. The SAT / ACT course was very helpful, I don't think I would've improved my reading skills without it. This course also gave me strategies to break down a reading. I got a feel for the SAT and had practice in areas I struggled in.
- Niaema Fox (This student took our SAT preparation course)
Lisbon
Primary Course Venue:

Sofitel Lisbon
Avenida da Liberdade 127
Lisbon 1269-038, Portugal

NOTE: We do NOT typically have staff at the venue, so email us before visiting the venue.
Meet a Lisbon SAT Tutor: Kaitlyn G.
Kaitlyn G. has been a Lisbon-based SAT tutor and classroom instructor for Manhattan Review since last year. She joined our Lisbon team after a nine-year career as an SAT educator in the Miami, Florida area. Kaitlyn's student evaluations indicate that she is an excellent SAT teacher with a gift for identifying and overcoming both common and less common SAT preparation challenges.
Kaitlyn's academic credentials include a bachelor of arts in history from the University of Michigan and a master of arts in history from the University of California-Los Angeles. Born and raised in the town of Janesville, Wisconsin, she is known as a diehard fan of the Green Bay Packers. Her hobbies include yoga and cycling, and she was previously a volunteer at an animal shelter in her home town.